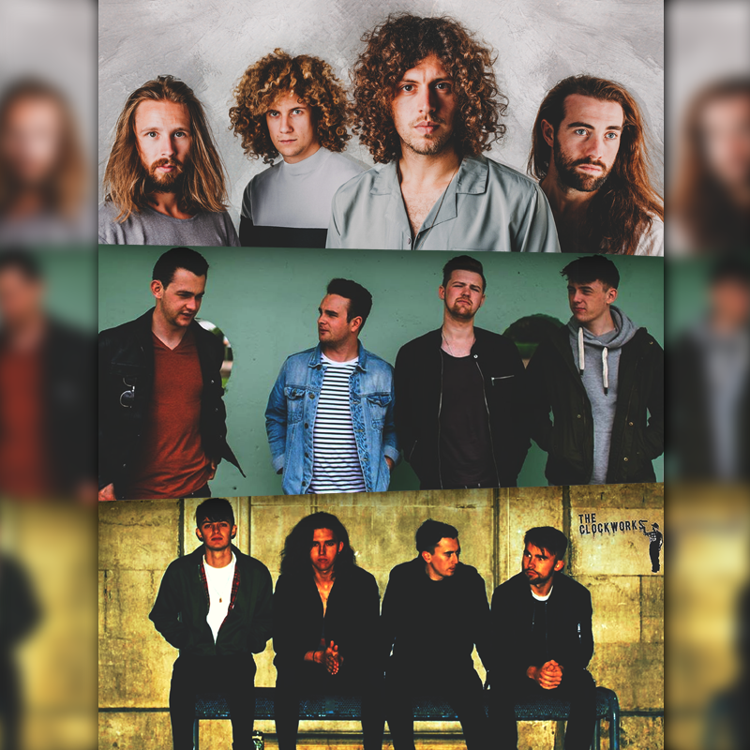 Scruff of the Neck presents:
Glass Caves // Young Earth // The Clockworks
Glass Caves
8.00
Entry Requirements: 18+
Scruff of the Neck presents
GLASS CAVES
"a word of mouth phenomenon" - CLASH
FACEBOOK: https://www.facebook.com/glasscavesmusic
LISTEN: http://www.soundcloud.com/glass-caves
TWEET: @GlassCaves
---
YOUNG EARTH
Indie-pop newcomers Young Earth are a band well capable to knocking out killer harmonies and melodies - Jim Carroll, Irish Times (On the Record)
FACEBOOK: Facebook.com/youngearthmusic
LISTEN: Soundcloud.com/youngearthmusic
TWEET: Twitter.com/youngearthmusic
---
THE CLOCKWORKS
Witty, ironic anecdotes reminiscent of The Streets and The Arctic Monkeys...A band with big dreams and a wry look on life has to go far. - Musician.ie
FACEBOOK: www.facebook.com/theclockdoesntwork
LISTEN: www.soundcloud.com/theclockworksband
TWEET: @daclockworks
---
---
SCRUFF OF THE NECK
"Making waves we shouldn't ignore" - Hattie Pearson, Key 103 & ex-Radio X
"Super-cool imprint" - Manchester Evening News
"Scruff are proving themselves to be instrumental in bringing forward new talent" - Louder Than War
"A one-stop-shop for getting acts to the next level" - Ben Ryles, DHP Family
"Discovering and developing some great talent in Manchester and beyond, it's exciting to be working with them" - Joe Vesayaporn, Music Glue
---
BOX OFFICE
ADVANCE TICKETS: £8 euro adv // 10 euro door
AGE POLICY: 18+
DOORS: 7:30 PM
CURFEW: 11:00 PM
ADDRESS: The Workman's Club 10 Wellington Quay, Temple Bar, Dublin 2, D02 VX36
---
PARTNERSHIPS
Ents24
Ticket Alien
Light & Noise Productions
Line Up
Glass Caves
"a word of mouth phenomenon." - Clash
"Believe the hype." - The Music Ninja
"This classic, nostalgic sound is energizing and exciting with heavy guitar riffs and a wonderfully northern vocal." - GQ Magazine
All journeys start somewhere. A few less start on the streets, and fewer still end up taking in some of the UK's best-loved festivals and venues in front of vast adoring crowds. Fortunately for Pontefract four-piece Glass Caves, theirs did. And while it's already reached impressive heights, it's far from reached its climax.
Beginning their life busking on the streets of York, before heading to almost every corner of the UK, the band quickly amassed a loyal and devoted following, who appreciate their no-nonsense, back-to-basics brand of self-promotion; something they have in common with the industry tastemakers that followed soon after.
Such was strength of those first initial ripples, that they rapidly became waves, and the band quickly found themselves playing a headline Club NME at London's KOKO, The Great Escape, Dot to Dot, Isle of Wight Festival, and Reading & Leeds amongst countless other well-received dates that continue to cement their reputation as one of the UK's best loved touring bands.
Not content with being on top of their live game alone however, the band's DIY roots and inexhaustible work ethic recently caught the attention of the BBC, who commissioned a Newsbeat documentary charting their rise from back-street buskers to major radio darlings, while their self-funded debut 'Alive' made Record Store Day's Top 40 at the time of its release.
Such accolades are nothing to be sniffed at. But Glass Caves are a band who refuse to rest on their laurels. And though also in a constant state of innovation and though the band's forthcoming EP is arguably their strongest release to date, they also refuse to forget their roots.