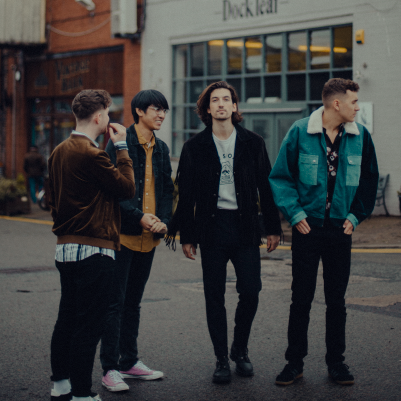 Scruff of the Neck presents:
Wide Eyed Boy // Hanover // Milpool
Wide Eyed Boy
£7.00
Entry Requirements: 18+
Scruff of the Neck presents
Wide Eyed Boy
"A band producing atmospheric indie-rock, charming and mesmerizing in equal measure - Wilful"
FACEBOOK: www.facebook.com/wideeyedboyofficial
LISTEN: https://soundcloud.com/wideeyedboy
TWEET: @wideeyedboy
---
Hanovēr
Emotive and electronically driven indie-pop from Merseyside
FACEBOOK: https://www.facebook.com/ThisIsHanover/
LISTEN: https://soundcloud.com/h-a-n-o-v-e-r
TWEET: @FollowHNVR
---
Milpool
Four-piece from Liverpool that balances alt-rock with against an understated pop sensibility
FACEBOOK: https://www.facebook.com/MilpoolLiverpool/
---
SCRUFF OF THE NECK
"Making waves we shouldn't ignore" - Hattie Pearson, Key 103 & ex-Radio X "a Super-cool imprint" - Manchester Evening News "Scruff are proving themselves to be instrumental in bringing forward new talent" - Louder Than War "A one-stop-shop for getting acts to the next level" - Ben Ryles, DHP Family "Discovering and developing some great talent in Manchester and beyond, it's exciting to be working with them" - Joe Vesayaporn, Music Glue
---
BOX OFFICE
www.scruffoftheneck.com/events
ADVANCE TICKETS: £7
AGE POLICY: 18+
---
PARTNERSHIPS
Ents24 Ticket Alien Light & Noise Productions
Line Up
Wide Eyed Boy
WIDE EYED BOY
A new band from Liverpool (UK) formerly under the name Whitecliff.
https://www.youtube.com/watch?list=UUPLAYER_WEAREWHITECLIFF&v=3gDtaONwKyI
Whitecliff have had a lot of success and have been tipped for big things. After releasing their debut single 'Everybody Knows', they followed up with the 'Young Lovers' EP and the 'Five Minutes' single on '25 Hour Convenience Store', Gary Powell's (The Libertines) new label in conjunction with Believe Digital. This led to supporting the likes of 'The Libertines' at Alexandra Palace, a headline UK tour in April 2016 and a tour of Germany supporting 'The Rifles' in October 2016. Alongside great radio support from Radio X, BBC Radio 2 and BBC Radio 6 among others, Whitecliff have cemented their place as one of the hottest rising live bands in the North West.
Now after working with New Producer Rich Turvey (Blossoms, Clean Cut Kid) WIDE EYED BOY are planning a new rebrand and release with new music and a new image being launched on 1st December. The decision to make this change was made after working with Rich Turvey as the band had found a new fresh sound that works with the new image of WIDE EYED BOY. text to link