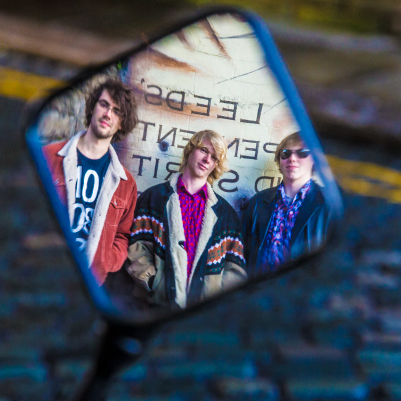 Scruff of the Neck presents:
The Calls // The Omega Era // The Marble Arches // Velvela
The Calls
£7.00
Entry Requirements: 18+
Scruff of the Neck presents
THE CALLS
"They were really good, shockingly good actually." Tom Hingley (Inspiral Carpets)
FACEBOOK: www.facebook.com/thecallsuk
LISTEN: www.soundcloud.com/the-calls
TWEET: @the_calls
---
THE OMEGA ERA
Pounding rhythm sections layered with soaring leads, anthemic vocal melodies are the base ingredients for the Omega sound. - AllHeavyMetal.com
FACEBOOK: www.facebook.com/theomegaera
LISTEN: www.soundcloud.com/theomegaera
TWEET: @theomegaera
---
*THE MARBLE ARCHES * *The creative presence of Harry Wainwright Little, seeing & scribbling out of his head into sound. * FACEBOOK: https://www.facebook.com/marblearches/
LISTEN: https://soundcloud.com/themarblearches
TWITTER: @marble_arches
INSTAGRAM: @themarblearches
---
Velvela
RUGGED, RAW AND DAMN ANIMALISTIC! - Indie central music
FACEBOOK: https://www.facebook.com/velvelaband/?ref=br_rs
LISTEN: https://soundcloud.com/v-e-l-v-e-l-a
TWEET: velvela_band
---
SCRUFF OF THE NECK
"Making waves we shouldn't ignore" - Hattie Pearson, Key 103 & ex-Radio X "a Super-cool imprint" - Manchester Evening News "Scruff are proving themselves to be instrumental in bringing forward new talent" - Louder Than War "A one-stop-shop for getting acts to the next level" - Ben Ryles, DHP Family "Discovering and developing some great talent in Manchester and beyond, it's exciting to be working with them" - Joe Vesayaporn, Music Glue
---
BOX OFFICE
www.scruffoftheneck.com/events
ADVANCE TICKETS: £7
AGE POLICY: 18+
ADDRESS: The Lending Room, 229 Woodhouse Lane, City Centre, Leeds, LS2 3AP
---
PARTNERSHIPS
Ents24 Ticket Alien Light & Noise Productions
Line Up
The Calls
Mobile – 07802 426181 Email – iancheek@talk21.com
THE WATERFRONT / DREAMS OF YESTERDAY [OUT NOW] RECORDED WITH KEIRON MELLING OF THE FALL
NEW EP OUT SPRING 2016 PRODUCED BY MICKEY DALE OF EMBRACE
People have been keeping quiet about this band; resisting the urge to shout about them from the rooftops; to tell the world about another gem found on the streets of Leeds, doing things their way; wilfully playing the wrong venue at the wrong time to what appears to be the wrong audience; oblique, confrontational and always with a smile on their faces; avoiding the rules until the rules can be avoided no more, but then ignoring them anyway … But now it's time …
THE CALLS are young. They come from Leeds. They're proud to come from Leeds and they write about cities like Leeds. They're full of lust and vigour, and have songs that teeter upon the abyss between exhilaration and catastrophe, but that's the attraction. These songs are clever; they have intricate structures and lyrics that speak articulately of young people growing up as the internet-driven, recession-ridden, jobless generation; observing the drama and the comedy of city streets and their surrounding suburban frustrations with a witty sincerity. These songs exude an air of danger, of being on the verge of collapse at any moment so that, when they don't, it's a shock and a surprise and you feel relieved and vindicated for the four grinning souls standing on the stage.
Two of their songs, THE WATERFRONT and DREAMS OF YESTERDAY, were released as a staggeringly limited edition CD single of just 100 copies in October 2015. On the evening prior to release, THE CALLS hosted a Single Launch Night at BAD APPLES in [where else?] THE CALLS in LEEDS …
It wasn't the most obvious venue; it's tiny and grubby but it's welcoming and loved and, regardless of the weather outside, it was a hot and sticky evening. The music industry gurus heading from London that day to witness whether what they'd heard was true will have wondered why the venue was chosen when there are bigger and more salubrious places just across the road. But that was the point. Ignore the rules. Don't do the obvious. Do what feels right. There were people outside who couldn't get in. They should have got there earlier …
THE CALLS knew that their debut single would disappear in a flash, and it did; sold to fans on the morning of release, sold to the curious, sold to the speculators taking a chance that one day it might be worth a fortune. But THE CALLS still gave away copies to the first fifty people through the door on the night of the launch; half the pressing. Those same fifty people received a free T-Shirt commemorating the event with the date and venue lovingly printed upon it. T-Shirts that may spend years gathering dust; that may end up being used to wash the car on idle afternoons; or that may end up as memories of when something very special began. The T-Shirts were one-size-fits-all. No fuss, no messing about …
Another thing: the single was produced by KEIRON MELLING of THE FALL, a band uniquely and notoriously renowned for hating everything, for seeing no worth in any band other than their own; and it would take some special kind of character to confront them over that belief. But KEIRON MELLING produced THE CALLS. It's quite clear that means something …
And their forthcoming EP, released in the spring of 2016, was recorded and produced by MICKEY DALE of EMBRACE. They may not quite hate everything in the same way as The Fall but, still, MICKEY DALE of EMBRACE. Again, it's quite clear that means something …
Listen to THE WATERFRONT and DREAMS OF YESTERDAY here:
Watch the video to THE WATERFRONT here:
Watch the video to BACK IN TOWN here:
And have look at a few select INTRODUCING FEATURES here: https://www.dropbox.com/sh/16b3lwq6ao82s8l/AAAPbs9QYIxGXBjKYTjv36ega?dl
For further information and interviews, please call Ian on 07802 426181 or email iancheek@talk21.com