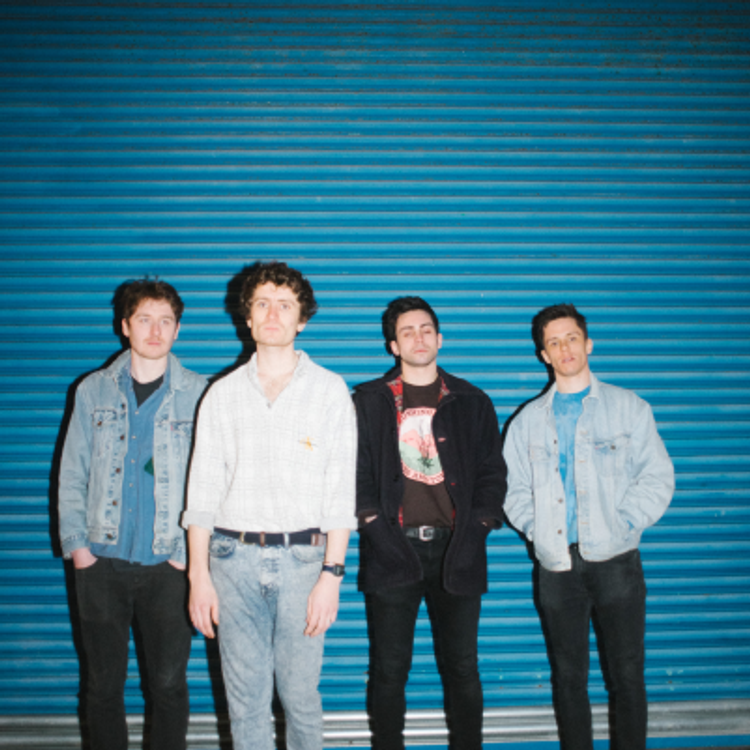 Scruff of the Neck presents:
The Hubbards // Flaneur // Last of the Wonder Kids // The Empire Police
The Hubbards + The Hubbards
£7.00
Entry Requirements: 18+
Scruff of the Neck presents
*The Hubbards * *"The city's biggest Indie Rock band" - Hull Daily Mail * FACEBOOK: https://www.facebook.com/thehubbardsband
LISTEN: https://soundcloud.com/thehubbards
TWEET: @thehubbards
---
FLANEUR
4 people playing indie dreampop all with big hair, skinny legs and lots of cowbell
FACEBOOK: https://www.facebook.com/weareflaneur/
LISTEN: https://soundcloud.com/user-997304489
---
LAST OF THE WONDER KIDS
By mixing lo-fi melodies with reverb soaked guitar riffs they create infectious, high energy and often chaotic indie pop songs we just love. - BBC Introducing
FACEBOOK: www.facebook.com/lastofthewonderkids
TWITTER: @lastofthewonder
INSTAGRAM: @lastofthewonderkids
---
The Empire Police
Unique, they don't abide by the rules, truly intriguing, exciting and fresh with a compelling and lively indie rock sound - Scarlett India Music Blog
FACEBOOK: www.facebook.com/theempirepolice
LISTEN: https://soundcloud.com/the-empire-police/sets/the-empire-police-ep
TWITTER: @theempirepolice
INSTAGRAM: @theempirepolice
---
---
*SCRUFF OF THE NECK * "Making waves we shouldn't ignore" - Hattie Pearson, Key 103 & ex-Radio X "a Super-cool imprint" - Manchester Evening News "Scruff are proving themselves to be instrumental in bringing forward new talent" - Louder Than War "A one-stop-shop for getting acts to the next level" - Ben Ryles, DHP Family "Discovering and developing some great talent in Manchester and beyond, it's exciting to be working with them" - Joe Vesayaporn, Music Glue
---
*BOX OFFICE * www.scruffoftheneck.com/events
ADVANCE TICKETS: £7
AGE POLICY: 18+
ADDRESS: Night People, 105-107 ​ ​Princess ​ ​Street, ​ ​Manchester, ​ ​M1 ​6DD
---
PARTNERSHIPS
Ents24 Ticket Alien Light & Noise Productions
Line Up
The Hubbards
The Hubbards are a 4 piece indie pop band based between Leeds and Hull.
So far, the band have received day and night-time airplay on BBC Radio 1 and BBC 6
Music, including an on-air interview with Fearne Cotton. Their previous singles "Is it
Me" and "Dog Bite" were both played by Jen Long and Ally McCrae (BBC R1), and Tom
Robinson (BBC 6 Music), as well as regional radio stations.
They have toured extensively around the UK at venues including The Cockpit and
Belgrave Music Hall (Leeds), 02 Adacemy (Sheffield), Night and Day (Manchester) Hare
and Hounds, The Rainbow and a Red Bull Lock In (Birmingham) and many more.
Support slots include Spector, The Pigeon Detectives, Skaters, We Were Promised
Jetpacks, Little Comets, and they have shared festival stages with Foals and The 1975.
The Hubbards were the only indie band featured in Hull's "Ones to watch" section of its
"City of Culture 2017" guide. The band were also interviewed by The Guardian speaking
with Peter Mandelson leading up to the bid.
"The Hubbards never disappoint – you stand there during the live set thinking "that's the best
song" then the next one comes along and you think the same and on it goes until you're left with
a whole set full of new favourites. Brilliant band." – Alan Raw, BBC Introducing
"If a dog's bite is anything like this then I'm more than willing to endure a bout of rabies." –
"With an intriguing blend of intricate guitars and rousing vocal harmonies, the future
Freshonthenet (On 'Dog Bite')
looks set to be bright for the unassuming quartet." - The Mancunion
"The city's biggest Indie Rock band" - Hull Daily Mail
"Is It Me proves to be another pulsating Indie/Pop masterpiece."– Scientists of Sound
www.facebook.com/thehubbardsband
www.youtube.com/thehubbardsband