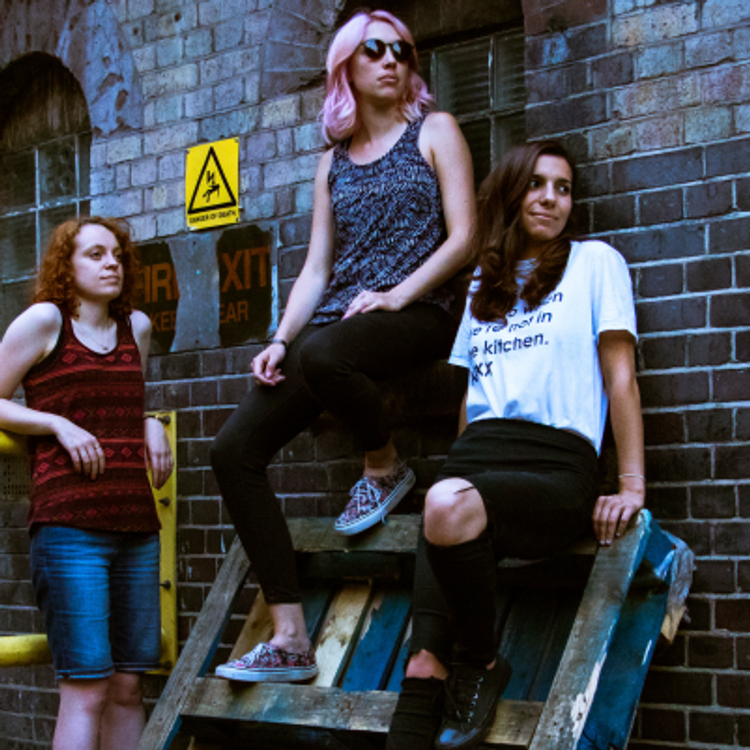 Scruff of the Neck presents:
Berries Single Launch + Desmerelda // ARXX
BERRIES
£7.00
Entry Requirements: 18+
Scruff of the Neck presents
BERRIES
"Infectiously energetic, instrumentally taut and melodically uplifting, you couldn't help but be impressed by this fine power-trio. Combining the staccato attack of the most choice power-pop on Siren, with a funky Hot Chili vibe on Those Funny Things, their clever song arrangements elevate The Berries from the norm, with the breakdown on new song, Dangerous, reminiscent of Rush. Superfood for the eyes, ears and - Record Collector
FACEBOOK: https://www.facebook.com/BerriesBand
LISTEN: www.soundcloud.com/Berriesband
TWITTER: @Berriesbanduk
INSTAGRAM: @Berriesband
---
---
DESMERELDA
"The gouging tracks tear at the plaster on the walls as Desmerelda deliver their high-impact rock 'n' roll." - EMERGING INDIE BANDS
FACEBOOK: https://www.facebook.com/desmereldaband/
LISTEN: https://soundcloud.com/desmerelda
TWITTER: @DesmereldaBand
INSTAGRAM: @desmereldaband
---
ARXX
Hannah and Clara are a punk rock gal pal duo. This is what we do when we're not in the kitchen
FACEBOOK: https://www.facebook.com/arxxband/
LISTEN: https://soundcloud.com/arxx-1
TWITTER: https://twitter.com/arxxband
INSTAGRAM: https://instagram.com/arxxband
---
SCRUFF OF THE NECK
"a Super-cool imprint" - Manchester Evening News "Scruff are proving themselves to be instrumental in bringing forward new talent" - Louder Than War "A one-stop-shop for getting acts to the next level" - Ben Ryles, DHP Family "Discovering and developing some great talent in Manchester and beyond, it's exciting to be working with them" - Joe Vesayaporn, Music Glue
---
BOX OFFICE
www.scruffoftheneck.com/events
ADVANCE TICKETS: £7
AGE POLICY: 18+
ADDRESS: Birthdays, 33-35 Stoke Newington Road, Dalston, London, N16 8BJ
---
PARTNERSHIPS
Ents24 Ticket Alien Light & Noise Productions
Line Up
BERRIES
BERRIES are an Alt/rock trio who are well known for their energetic shows and original take on riff-driven rock. They recently released their debut EP which was picked up by BBC London Introducing (resulting in a featured artist spot) and by Fender who included them in a playlist of their top 10 favourite new acts featured on Richer Unsigned. Their live shows are packed full of charisma and energy and their songs span a mixture of genres and influences.
"The UK is bursting with great indie-rock bands. While many have attempted to emulate the searing sound of Wolf Alice and Black Honey, BERRIES are hammering a sound of their own. Blending '80s rock, '90s art-rock, '00s alt-rock, and the attitude of the riot grrrl movement, the trio are quickly carving out a spot in the competitive London music scene." The Revue
"Keep an ear and an eye out for them, I think they have a lot of promise" - Gary Crowley, BBC London Introducing
"The band's energy was electric from the moment they stepped on stage'" - We Plug Good Music, Barfly Review
"Those Funny Things is an absolute triumph, six great songs that it's impossible to pick a favourite from as they've set the bar so high. Their direct approach, the lack of studio trickery and the raw open honesty of both the lyrics and their delivery and the uncluttered instrumentation combine to make a record that makes a striking first impression" - Even The Stars